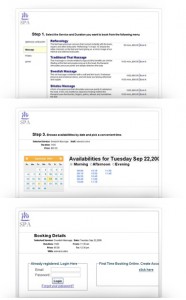 As your business evolves, you start to think about major changes in your business model that could help improve profitability. Most small retail or customer-interaction businesses start off as walk-in locations where people can walk in off the street and try to buy a product or set up a service. For businesses such as car dealerships, this model is extremely effective. But for other kinds of businesses, this may not be the right approach. There are some definite benefits to switching from a walk-in business to an appointment-based company that each small business owner should consider.
Staff Efficiency
When you run a walk-in business, it is difficult to keep your business properly staffed. You may have specialists in certain areas, but walk-in business can make the availability of your specialists unpredictable. When you change to an appointment model, you can schedule the time of your staff more efficiently and you can get the proper specialist matched up with each customer's need. It will make your sales more cost effective and help you to address all of your customer's needs.
Store Hours
When you run an appointment-based business, you can keep the hours that are convenient for your clients as opposed to trying to keep general hours that are hit or miss as far as customer availability. When you switch to an appointment-based company, you may find that your sales increase because your serious clients are only available during times when your business was rarely open.
Stock Rotation
When you have a walk-in business, your stock tracking programs are constantly trying to predict the buying habits of the general public. That can lead to inefficient stocking methods that can cost your company money. When you switch to appointments only, you know exactly what clients are coming into your establishment and what kinds of products or supplies you will need to satisfy customer needs. It can cut way down on wasted inventory.
Online Interaction
When you work on appointments only, you can open up your company schedule to anyone that wants to buy your product or service by having an online scheduling option. Many small business owners make the mistake of thinking that an appointment-based business alienates potential customers. When you allow customers the ability to schedule their appointments over the Internet, you wind up making the process more efficient for you and your clients. Instead of alienating customers, you are making your business more accessible to the clients that really want to buy your products or services.
Make the switch to online appointment software at http://www.timepicks.com.