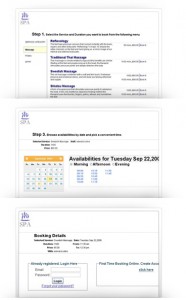 Online marketing can be a powerful tool for your small business and it can also help you reach millions of potential clients for almost no cost. The trick to online marketing is to develop an organized plan and then stay diligent in your approach. Online marketing requires persistent adding of new content to be effective.
Some small businesses avoid putting time into online marketing because they may not understand the return it can bring. If your company is not online, then it does not exist to the more than 90 percent of consumers who use the Internet to find new businesses more than any other search medium, including the phone book. Before you start your online marketing campaign, there are some things a small business owner should know about Internet marketing that will enhance your success.
Social Media
A small business should find the time to maintain a page on each of the social media outlets that will enhance customer exposure. For example, a page on Facebook is a necessity for any business. But a craft business that relies on images of its products to be successful would also do well to have a presence on social networking platforms such as Pinterest as well. Find the right social media outlets for your company and add new content to those outlets every single day.
Blog
If you want to interact with your clients in a meaningful way, increase your company's exposure on the major search engines and establish yourself as an expert in your industry, then you need to start a blog. Most small businesses are making blogs part of their main websites as opposed to having stand-alone blogs. To have a successful blog, you must have content that is focused on what your company does and you need to add at least one article per day. You can increase your blog traffic by having guest writers add content every so often.
Video Hosting Sites
Internet marketing experts are finding that pictures and videos are becoming extremely popular among the people who are looking for new information on the Internet. A customer would rather see a picture of a product or watch a demonstration video than read about the product. There are several video hosting sites that will allow you to post and promote business videos for free. You can choose to have your videos professionally produced, or you can save even more money and make them yourself. As long as the content is entertaining and informative, people will watch and utilize your videos.
Visit http://www.timepicks.com for your small business needs.