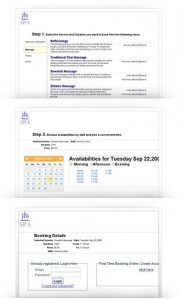 Small businesses are always looking for a competitive edge that will help them to save money and put more profit on the bottom line. One of the tools you can use that will help your customers and grow your business is online scheduling software. When you work with a reputable online scheduling company to develop a comprehensive appointment program, you will find that your company inherits several advantages over the competition.
Improved Customer Retention
Nothing frustrates a customer more than having to fight with the phone to make an appointment. If the phone is not busy when the client calls, then the client hopes that he will not be put on hold while the associate is taking an appointment from someone else.
An online scheduling program increases customer satisfaction and improves customer retention. Your regular customers will now be able to make appointments from their homes whenever they want. They will no long have to hear a busy signal or wait on hold when trying to make an appointment. Your new clients will get a good first impression of your organization and its efficient appointment-making software.
Better Records Management
When you keep all of your appointment information by hand, things tend to get lost and not all of the information is kept organized. When you use an online appointment program, your customers' appointments are automatically linked to client files and all of the information is kept in one convenient database. When your clients arrive for their appointments, you will already have their records waiting and any updates to client records made during the appointment are done automatically.
Reduces Missed Appointments
When customers are forced into taking an appointment time, they are very likely to skip that appointment. When you use an online appointment program, customers get to see all of the available appointments and they can make the choice that best suits them. When your clients take the time to make their own appointments online, they are more apt to keep those appointments.
Increases Staff Productivity
Even though customer appointments are the lifeblood of your company, taking appointments over the phone is still a repetitive and financially inefficient task. Implementing scheduling software allows customers to make their own appointments and frees up your staff to do more productive work. Instead of spending hours each day taking appointments over the phone, your staff can spend that time doing activities that will add profit to your company's bottom line.
Benefit your business with online scheduling software at http://www.timepicks.com.