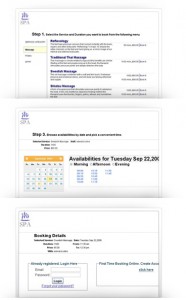 In busy cities, doctor's offices can become very busy places. Office staff is constantly cross-referencing medical records with the current information being added by the doctors and patients are just trying to get in to see the doctor to get their problem addressed. When a medical practice of any kind institutes an online scheduling feature on its website, it can reduce the headaches for the patients and for the office staff as well.
Cross-Referencing
One of the biggest advantages to using an online scheduling program for a doctor's office is the ability for the database to instantly cross-reference the patient's medical records and have those records ready when the patient arrives for his appointment. Instead of requiring an office staff member to take time out of her day to find the information, the computer database can have it ready to go instantly.
Reduces Appointment Phone Calls
If you go to any doctor's office and listen to the incoming phone calls, you start to realize that there is a significant amount of phone calls for appointments. The problem with this is that a backlog of appointment phone calls makes it difficult for the emergency phone calls to get through. By utilizing an online appointment scheduling program, the doctor's office can eliminate the deluge of appointment phone calls and make more time for the important phone calls.
Reduces Confusion
For some reason, doctor's appointments tend to be the ones that most people get the time and day confused. When a medical practice utilizes an online appointment program, the patient can make the appointment for a day and time that she will remember. To help the process along, the online scheduling service can send out reminder emails that help patients to remember when they have appointments and what materials they have to bring to their doctor visit.
Patient Convenience
Medical issues do not always strike during a doctor's office hours. But, in some cases, the patient can wait until the next morning to see the doctor, so long as the patient can get an appointment. Rather than waiting all night to see if she can get an appointment by calling the doctor's office, the patient can make the appointment online instead. That way, the patient will know if the doctor has time to see her the next morning, or if she should consider going to the hospital to get the situation taken care of.
Visit http://www.timepicks.com and keep you and your patients organized with online scheduling.