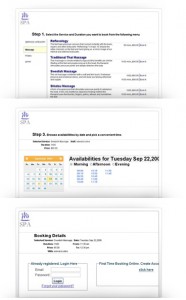 Customers tend to become very adamant about getting in to their favorite hair salon to get their work done. In some cases, customers can get particular about the stylist that they see when they finally get an appointment. Most hair salons cannot afford to hire a person to deal with appointments all day. The stylists deal with their own appointments, and that is why the appointments can sometimes get confused.
When a hair salon uses online scheduling software, it can eliminate the confusion and help clients to feel like they have exclusive access to their favorite salon and stylist. When a salon personalizes its scheduling software to make it look like it is just another feature on the website, it can raise the perceived level of customer service offered by the salon in the eyes of the clients.
The first convenience customers will notice with an online appointment program for hair salons is that appoint making becomes more accurate. The client is able to choose the time she wants to come into the salon as opposed to waiting for a stylist to have time to look over the appointment book. All the customer has to do is look over the website and take her time in finding the best appointment time.
The other big convenience for clients that an online appointment program offers is the chance to schedule an appointment with their favorite stylist. A salon can utilize its online scheduling software to allow customers to choose which stylist they get along with the day and time of the appointment. Customers can then choose if they want to alter their schedule to see their favorite stylist, or if they are willing to take whichever stylist is on duty at that moment.
When a client uses a salon's online scheduling software, she can let the salon know what services she will want before she arrives. If the client will need a process done that will require specific materials or equipment, then the salon can know in advance and make the proper arrangements.
Running a beauty salon means understanding your customer's needs and finding ways to get the customers what they want. An online scheduling tool can be the ideal way to make sure that your customers always have appointment options, and that your salon is always ready when customers arrive. It will help you get the referrals you need to grow your business.
Visit http://www.timepicks.com to find out the perks of using online appointment scheduling.