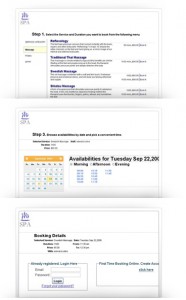 The Internet can be a valuable tool for people who want to bring more attention to their alternative health business. Networking online can allow an alternative health professional to:
Dispel the rumors about alternative medicine and replace them with facts.
Interact directly with people who have an interest in alternative health.
Link patients with other online resources that will help them to get the information they need.
Give your alternative health business credibility by linking it to other respected medical websites.
Every alternative health business needs to have a blog to help address the common concerns of potential patients. A blog is where an alternative health professional can post articles that give the truth about alternative medicine and help to counteract the rumors that people hear from unreliable sources. You can also invite people to leave you messages and interact on your blog, which will give you new questions to answer and new ways to help people to understand alternative health. One of the biggest obstacles for any alternative health business is the common misconceptions people have about alternative treatments. A blog can help to give the facts and put the rumors to rest.
Another way that alternative health professionals can reach out to prospective patients is through the social media. The Internet is filled with contradicting information about alternative treatments, and a social media presence is a great way to address the concerns of prospective patients one at a time. In the process of addressing each patient's concerns, you will be answering questions for others that choose not to post their questions on your social media pages.
There are many different reputable alternative health publications and organizations online that you can get your company linked to for added credibility. Research the certifications and reputable publications for your alternative health discipline, and get your company involved with these organizations. Not only does it add more credibility to your organization, but it also gives you access to a wider online audience when marketing your company.
Networking your alternative health business with reputable companies and getting your company involved in directly answering patients' questions is critical to your success. You can take full advantage of the interactive nature of the Internet to help expand your customer base and combat the misconceptions that cause some people to avoid utilizing alternative health procedures. Over time, your company can become a valuable online resource for people looking for reliable information on alternative health.
Go to http://www.timepicks.com to learn how to increase business flow.