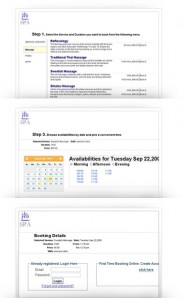 When a business that relies on customer appointments tries to increase revenue, one of the first places it looks is at ways to cut down on customer no-shows. When customers make appointments and do not show, then the company loses money in the time it took to prepare for the appointment and it loses income because of the loss of a potential sale.
If you give customers the option of making their own appointments, then you increase the chances that the customer will show up. Utilizing online scheduling software not only increases revenue by cutting down on no-shows, but it also has other ways that it can improve the chances that a client will keep his scheduled appointment.
Convenience
When a client has to call into a business and make an appointment, the whole process can be extremely inconvenient. If the client gets through on the call without a busy signal, then she may have to wait on hold while the associate schedules other people for appointments. Another inconvenience customers run into with making phone appointments is they cannot see all of the appointment options that they have.
When you utilize online scheduling, the customer can go to your website whenever she wants and browse your available appointment times and dates. The customer can then schedule an appointment that is free of hassles and is at a time that she finds convenient.
The Emotional Commitment
An appointment that is made over the phone is almost like a business negotiation. The scheduler offers options and then those options are debated until a suitable arrangement is agreed upon. But in that kind of an exchange, the client does not build up any feeling of necessity when it comes to keeping the appointment. The client feels forced into the appointment and will keep the appointment if she can.
The use of an online appointment program allows clients to choose their own time and date. There is no pressure and that makes the client feel an emotional commitment to keeping that appointment. The client was not forced into the appointment and, therefore, she feels obliged to keep it.
Reminders
Even with a written schedule, your staff can forget to remind clients about upcoming appointments. When you use a scheduling program, the reminder emails can be sent out automatically and reliably. You can schedule a couple of reminder emails for each appointment that will make sure that clients do not forget their upcoming commitment.
Minimize no-show appointments with online scheduling at http://www.timepicks.com.