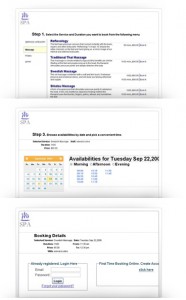 The Internet allows for a lot of different conveniences that businesses never had before. One of the tools businesses use on the Internet is online scheduling. But as intuitive and Internet programs can be, there are still mistakes people make when using online scheduling software that can be avoided.
Notifications
You can import email lists and create master distribution lists for your online scheduling software, but you still have to tell the program who gets your notifications. Always remember to create a list of notifications that need to be sent out with each scheduling event you create so that the proper people know the event is happening.
RSVPs
The good online scheduling software allows for easy and convenient RSVP notifications from each of the invited guests. This helps you to plan your meeting better and it also helps you to get meeting materials to the people that will be attending. The mistake is that too many business people forget to enable RVPS or forget to gather RSVPs as they come in. Utilize RSVPs to run a more organized event.
In Sync
Online scheduling software becomes even more powerful when you sync it up with your smartphone or your tablet. The problem is that many business people forget to ask about apps for their mobile computing devices that will help them to see their schedule wherever they go. Never assume that Internet access on your smartphone means you will be able to see your schedule. Download the app and make sure you stay in touch with your schedule in real time.
Additional Features
Your online scheduling software can do so much more than just schedule your important events. It can also help you to build a comprehensive contact list for all of your business associates, help you to group your contacts into manageable groups and allow you to send out messages intended for specific parts of your contact list. When you sign up for online scheduling software, take the time to review all of its features.
Personal Scheduling
One of the biggest mistakes people make with online scheduling software is they forget to schedule all of their important personal events on it as well. In order to be able to service your customers properly and maintain your personal life, you will need to have one schedule that helps you balance the two. Online scheduling software allows you to keep track of all of those important meetings and events, regardless as to whether they are personal or business.
Learn how to use online scheduling at http://www.timepicks.com.