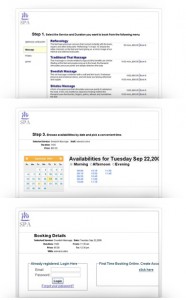 Making your business client-friendly is an important part of making sure that you retain your customer base. It is difficult to grow a business when you are unable to develop a reliable base of repeat customers. When you utilize online scheduling software, you increase your chances of retaining clients and keeping your business profitable.
Improved Customer Service
One of the big advantages to using online scheduling is that it improves the level of customer service that you offer your clients. When customers can go on to your website and make an appointment at their convenience, it helps eliminate many of the frustrations that come with making appointments over the phone. Some of those frustrations include:
Being put on hold by customer service associates.
Having to leave a message because no one is available to take the call.
Having to take time out of a workday just to call and make an appointment.
The potential for communication issues when speaking to someone over the phone.
Improved Appointment Attendance
When you give people the opportunity to make their own appointments, they tend to become more focused on keeping those appointments. If someone takes the time to log in to your website and make an appointment, then that appointment is expected to be the most convenient time for that client. You can also use your online scheduling program to send out reminders to clients about their upcoming appointments. All of this helps to increase the percentage of clients that keep their appointments.
Easier for You
When clients make their own appointments, then that is one less function you have to worry about. If you have someone who you have hired to deal with customer appointments, then you can reduce your staffing costs by putting the appointment scheduling functions online. Sales professionals can check their own appointments through the scheduling software and make sure that their calendars are properly coordinated.
Gauging Client Needs
When you are allowing clients to make their own appointments through online scheduling software, you can start to get a better idea of your client's habits and needs. If most of your clients are logging in to your website after normal business hours to make appointments, then you know that you may need to change your hours to appeal to the people who are buying your products. You can also tell which days and times of the week are more convenient for your clients based on when they schedule their appointments.
Help out your business with online scheduling programs at http://www.timepicks.com.