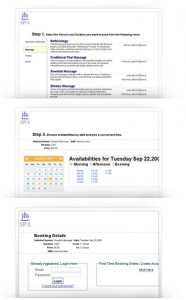 Most businesses would agree that if there is a way to run their company more efficiently and make their customers happy, then that is something worth investing in. Online scheduling software can be used by a variety of businesses to help make clients happy and increase your business as well. When you give customers the ability to schedule their own appointments online, then you are opening your doors to a growing customer base.
Butcher Shops
One kind of business that could really benefit from an online scheduling program is butcher shops. Most people do not enjoy the process of grabbing a number from the ticket dispenser and then waiting for the number to be called. This is especially true of the people that already know what they want. You can make your customers happy and expand your business by allowing customers to schedule their order pick-up on the Internet. Customers can choose what they want from your online menu and then schedule their own pick-up times.
Take-Out Restaurants
Answer the phone and taking orders for a take-out business is not always the most effective way to do business. When you add an online scheduling program to your restaurant website, then customers can choose their order and choose the time when they will pick it up. This allows you to be able to complete orders on your customers' schedules as opposed to always trying to keep up with the ringing of the phone.
Pharmacies
There are many pharmacies that already allow customers to refill existing prescriptions online. You can enhance that service by including an online scheduling program that will allow customers to let you know when they will be in to pick up their medication. You can also use the scheduling software to let customers indicate when they need to talk to a pharmacist while picking up their order.
Auto Parts Stores
Auto parts stores are finding it more difficult to compete with online auto parts retailers. One of the ways you can compete is to use an online scheduling program to let customers plan on when they will pick up their parts as opposed to guessing. Customers can put together an order using your online parts information, and then schedule the day and time that they will pick up their order. If you offer delivery, then your customers can let you know exactly when they want their parts. It is a way of offering an enhanced service that the online auto parts retailers cannot offer.
Visit http://www.timepicks.com and start using online scheduling software today.