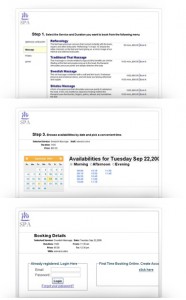 Job placement firms have a lot of information to keep track of that applies to a lot of people. When a job placement firm starts looking for candidates for one of its clients, it needs to be able to keep all of the information on each client separate and properly filed. When a job placement firm uses online scheduling software, it can allow candidates to browse job opening, submit their credentials and then schedule an interview if the credentials match what the employer is looking for.
The Internet has made it much easier for professional job placement experts to match up potential candidates with the job needs of clients. All a job placement expert needs to do is place an ad on his website and then collect the resumes. But with online scheduling software, he can send out an email that invites qualified candidates to schedule an interview at their convenience. It eliminates the step of making phone calls and allows the placement professional to service more customers.
Another advantage that scheduling software affords job placement professionals is that online scheduling software can also be used by the clients if they have a candidate they want to send to the placement expert for screening. All the placement professional needs to do is make sure that there is a place on the scheduling software for the client to indicate that it is sending over a candidate for screening.
Companies that do not use placement firms can still use online scheduling software to help make their recruiting process easier. When there is a candidate that the company is interested in talking to, then that candidate will receive an email asking him to log on to company's recruitment calendar and choose a time for the preliminary screening interview. When the process is done online, that makes it easier for the company as well as the candidate.
Looking for the right candidate to fill an employment position can take time and effort. In the initial stages of the search, much of that effort is put into scheduling interviews. With online scheduling software, the company can still review resumes and schedule interviews, but it can do so in a much more convenient manner. The right candidate can be found without having to spend hours and hours calling candidates to schedule preliminary interviews. Now it can all be done online and it can save the company a lot of money and the candidates a lot of time.
See how appointment scheduling software can simplify your job at http://www.timepick.com