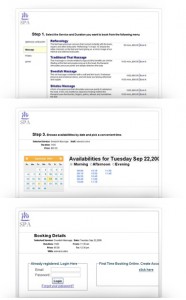 An online scheduling option for your business website is an important tool in retaining clients and making your business more profitable. But as you are choosing the company you will use to provide you with your online scheduling service, there are some points that you want to keep in mind. Always choose a reputable online scheduling company and always make sure that the company has the features and services you need.
One of the more important options you will need for your online scheduling software is the ability to personalize the page. This goes beyond the ability to put your company logo on the scheduling page. Properly personalizing a scheduling web page means all of the information on the page points back to your company and all of the email notifications come from your company website. As you consider the different online scheduling program providers, you need to use the ability to personalize the scheduling site as one of the deciding factors.
The primary reason that you want to be able to personalize your online scheduling service is to avoid confusion with your customers. When people click on a link on your website to schedule an appointment with your company, they expect to be taken to a page from your company's website. If your clients see someone else's information on your scheduling page, they may be confused as to how your online scheduling system works.
Another good reason for customizing your appointment scheduling page is that it adds credibility to your website. Customers do not like being on a company website and then being taken to another company's site to make an appointment or complete a transaction. Even though most retail websites outsource their appointment making and transaction processes to other sites, their customers do not know it because the sites are personalized. This helps to retain your company's credibility in the eyes of your clients.
You spend a lot of time and money creating a particular look for your company through your company website. When it comes to that important moment when a client is getting ready to make an appointment to do business with your company, you want to make sure that the process is smooth and reliable. When you utilize online scheduling software that allows you to customize the scheduling page to look like it is a part of your company's website, then you retain that online image and build credibility with your clients.
Start booking appointments online at http://www.timepicks.com.