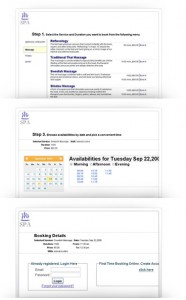 In the days before the Internet, people would need to call the washing machine repair company to schedule a service call. Sometimes the phone would be busy, and other times there would be so many people calling in for appointments that the customer would have to wait on hold for a long time before getting an appointment scheduled.
These days, in-home repair organizations need to utilize an online scheduling program to help customers get the help they need. Not only is an online scheduling program convenient for the client, but it can also help the service company out as well.
The Online Reference Library
When a customer has his major appliance or computer break down, he wonders what is going wrong with his product. When the refrigerator breaks down at 1:00AM, there isn't always someone at the repair shop to answer the phone and make an appointment. An online scheduling program will allow the customer to feel better knowing that he was able to make an appointment for a technician to come out the next morning, and the schedule program can also point the customer towards the company's online reference library.
With the reference library, the company can give customers advice on how to handle the situation until the technician arrives. The website can also give general advice on how to troubleshoot issues and give customers an idea of what could be wrong.
The Right Tech for the Job
An online scheduling program can give customers a series of questions to answer that will help the company to determine which kind of tech to send out to the appointment. This will ensure that the right tech is sent out for the job and will help to improve the company's customer service offering.
Parts Inventory
When technicians get appointments from a telephone call, they are not always supplied with enough information to determine what kind of parts they should take with them. When you use an online appointment making program for your in-house service business, you can give customers a short list of questions to answer that will let the technician know what parts to bring. When technicians get information in a consistent and organized fashion, then they are better equipped to handle customer issues.
Follow Up
An in-house service company wants to make sure that the technicians are doing a good job. An online appointment program can send out follow up emails after appointments are over to find out if there is anything the company can do to make the customer experience better.
Visit http://www.timepicks.com to learn how to provide the best customer service for your business with online scheduling programs.